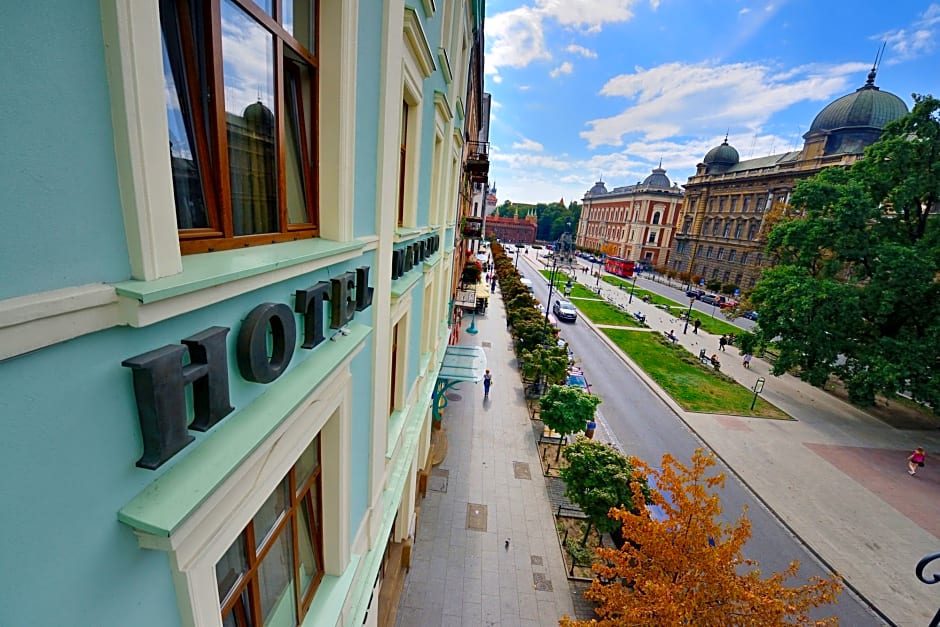 Hotel Matejko in Krakow is a 3-star hotel ideally located in the very centre of the city. This new and elegant hotel is set in a historical residential building at the Matejko Square, just 100 meters from Barbakan, one of the most famous monuments of medieval Krakow.

The hotel offers first-class service and comfortable and tastefully-decorated accommodation just a couple minutes walk along the Florianska Street – one of the most elegant shopping streets of the city – to the Main Market Square.

Meal options at Hotel Matejko include a restaurant. A delicious complimentary breakfast is served daily. Room service is offered for guest convenience. Our hotel provides a 24-hour front desk service. A currency exchange facility is also at your disposal. Public areas of Hotel Matejko are comfortable and air-conditioned. Our multilingual staff is friendly and professional. Leisure amenities: Guests can also enjoy the following spa/wellness facilities: sauna. Additional services: babysitting or child care, concierge services, dry cleaning/laundry service, elevator/lift, safe-deposit box - front desk, television in lobby, tour assistance and wedding services. Business & Internet: Internet options at Hotel Matejko: wireless access.
予約する方法
Hotel Matejkoで予約するのが簡単で安全でございます。ご希望の日付を選択します。そして、フォームを送信するために「料金を確認し」というボタンをクリックします。 客室タイプと料金はお宅の画面に戻った後で、画面の中央にある部屋の情報を読むと画面の右側にある「予約する」というボタンをクリックすることによって希望の料金を選択することができます。希望の客室タイプを選択した後で、「ご予約を完了」というフォームに転送されます。その時に「滞在の詳細」を確認して、「ゲストの詳細」という部分の空欄でご自分の詳細のことを書きます。ご自分の名前とメールアドレスが正しく入力されていることを確認してください。 すべての重要な情報を記入した後で、「ご予約を完了」というボタンをクリックしてください。ご自分のセキュリティを確保するために、私たちがクレジットカード番号を暗号化し、非使用可能な形式にエンコードする安全なコマースサーバーを使います。
地域情報
空港

Krakow, Poland (KRK-John Paul II - Balice)

- 6.17 mi

Katowice, Poland (KTW-Pyrzowice)

- 47.42 mi

ミュージアム

Czartoryski Museum

- 0.22 mi

Dominik Rostworowski Gallery

- 0.29 mi

Pryzmat Art Gallery

- 0.38 mi

Piano Nobile Gallery

- 0.45 mi

Bunkier Sztuki Modern Art Gallery

- 0.45 mi

Historical Museum of Krakow

- 0.53 mi

Foto-Medium-Art Gallery

- 0.57 mi